As promised, I'll be creating another list of other live action versions of popular manga which are slated to be released this year. 🙂 If you haven't checked out the first list, you may refer here.
MARCH 2017
Mangaban Nobushi no Gurume – DRAMA
Manga by: Masayuki Kusumi and Shigeru Tsuchiyama; Also known as: Samurai Gourmet
Kasumi Takeshi (Naoto Takenaka) has just retired and is quietly getting into his second life. He never had the luxury of a beer during the day on a weekday during his 35 years as a salaryman. But in that instant Kasumi gets acquainted with the taste of that one glass and eating alone. This is the start of his battle with eating by himself. It is an unexpectedly high hurdle for Kasumi to cross and one that he keeps fretting over.
The series started airing its episodes on Netflix on March 17, 2017
APRIL 2017
ReLIFE – Movie
Manga by So Yayoi

Arata Kaizaki (Taishi Nakagawa) is 27-years-old and unemployed. He quit his prior job after working for the company for 3 months. Arata Kaizaki decides to take part in a research program "ReLIFE." He takes medication that makes him look 10 years younger and he is to attend high school for a year. There, he falls in love with female high school student Chizuru Hishiro (Yuna Taira).
The movie started its first theatrical release on April 15, 2017.
March Comes in Like a Lion 2 – MOVIE
Manga by: Chica Umino

Rei Kiriyama (Ryunosuke Kamiki) is a 17-years-old shogi player. He debuted as a professional shogi player when he was in middle school. He lives by himself in Tokyo, because his parents and younger sister died in a traffic accident when he was little. One day, Rei Kiriyama meets three sisters who are his neighbors. The three sisters are Akari Kawamoto, Hinata Kawamoto, and Momo Kawamoto. This is his first meeting with someone outside of the shogi world in many years. Having meals with the Kawamoto family brings warm feelings to Rei Kiriyama. As Rei Kiriyama continues his shogi career, his interactions with his neighbors allow him to grow as a shogi player and as a person.
The film was released on April 22, 2017.
The Boy Next Door– DRAMA
Manwa: Bae Chul Wan; Also known as: Sseomnam; Flirty Boy and Girl; Some Guy


Based on a webtoon about two neighbors who starts living together. Born-rich college student Park Gyu Tae is neighbors with Seong Ji Jae while Kim Min Ah is kind of friends with both of them.
The series stated airing on Naver TV Cast, April 3 to Apr 28, 2017.
JUNE 2017
Joryu Tohaiden Aki – MOVIE
Manga by Keiji Hanasaki & Mitsuru Osaki
The film is based on manga series "Aki" by Keiji Hanasaki & Mitsuru Osaki, which is itself based on the life of professional mahjong player Aki Nikaido.
Okamoto Natsumi played the role of the 15-year-old Aki, who grew up around a mahjong parlor. During the winter, she moves out to Tokyo and experiences a lot of difficulties, so she decides to survive using her only weapon: mahjong. She goes up against bad adults and faces the reality of living in a large city. Around this time, Aki meets fellow female mahjong player Himawari and Takeo Kojima. Since then, she goes through major changes.
Movie is directed by Yutaro Nakamura and distributed by AMG Entertainment. The film was released on June 23, 2017.
Miyazawa Kenji no Shokutaku – DRAMA
Manga by Santa Uonome, English Translation: Kenji Miyazawa's Table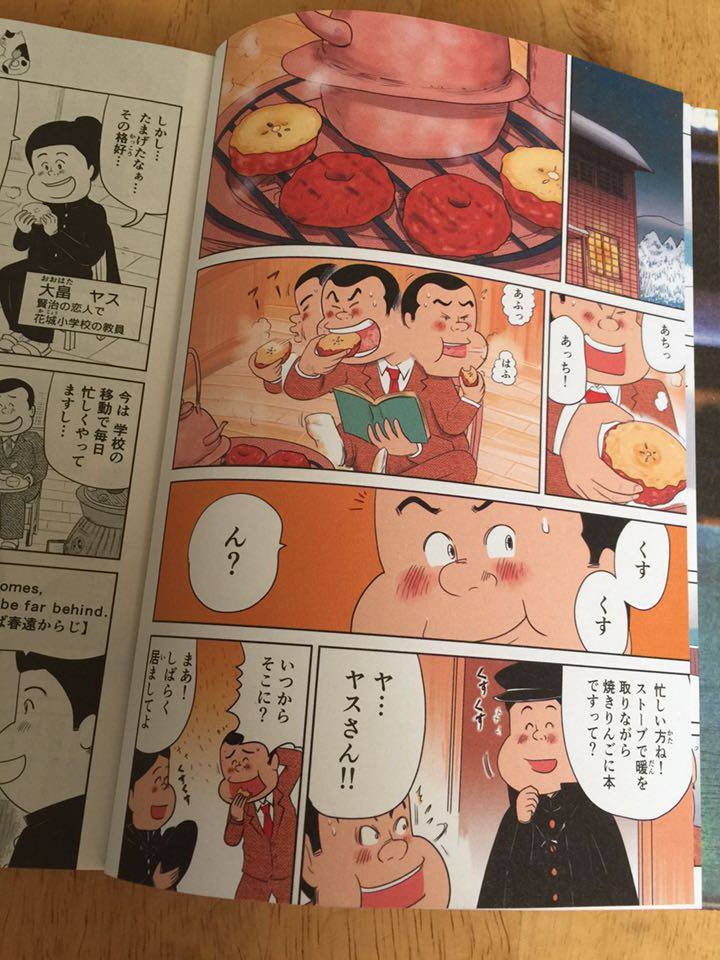 In 1921, Miyazawa Kenji left a wealthy family and went to Tokyo. Standing on his own two feet, he lived there for 8 months. Late summer, Kenji received a telegram from his family. Worried about his younger sister Toshi, Kenji returned to his family. What waited for Kenji there, was Kenji's father Masajiro. His father had deceived Kenji about the health of his younger sister because he was worried about Kenji living alone.
Meanwhile, Kenji has still not found his true calling in life. Kenji makes korokke (potato croquettes), which he tasted in Tokyo, and shares it with his family. He realizes that sharing his happiness is ideal for him. In accordance with Toshi's wish, Kenji becomes a teacher at a newly created agricultural school.
Miyazawa Kenji no Shokutaku started airing its first episode on June 17, 2017 until July 15th.
 
JULY 2017

Shinobi no Kuni – MOVIE
Novel by: Ryo Wada;  English translation: Shinobi's Country; Mumon; Mumon: The Land of Stealth  (This movie isn't really a manga adaptation but actually from a novel written by Ryo Wada.)

Mumon (Satoshi Ono) is lazy, but he is also the best shinobi from Iga Province. One day, he kills a shinobi from a different family for a reward. Mumon is unaware that his actions will lead to a deadly battle between the shinobi corps of Iga Province and Nobukatsu Oda's corps in Ise.The film starred Satoshi Ono and Satomi Ishihara and has already been released July 1, 2017.
Teiichi's Country – MOVIE

Manga by Usamaru Furuya; Also known as: Teiichi no Kun, Teiichi: Battle of Supreme High

Teiichi Akaba (Masaki Suda) is a student at a prestigious private male high school known for producing important politicians and bureaucrats. His dream is to become the prime minister and make his own country. To help achieve his dream, he wants to become elected as his school's student council president. The elected student president receives privileges and a better chance for promotions later in the political & bureaucrat world. A power struggle takes place surrounding the student election.The live action adaptation hit the Japanese theaters on July 1st, 2017.
The Time of Backlights – MOVIE
Manga by Katsuki Tanaka
Kyoto born and raised high school student Takatoyo Akada has feelings for Mikoto, whom he has known since their childhood days. During his ordinary daily life, he has uneasy emotions and grows up slowly.
The film was released on July 8, 2017.
Saboriman Kantarou – DRAMA
Manga by Tensei Hagiwara, Other titles: Saboriman Ametani Kantarou; さぼリーマン 飴谷甘太朗; さぼリーマン 飴谷甘太郎; 平成甘味録 さぼリーマン; Sabo Riiman; Sabo Riman; Kantarou: The Sweet Tooth Salaryman

Kantarou Ametani (Matsuya Onoe) is a handsome single man with glasses. He works as a salesperson for a publishing company. He does his job well and has the trust of those around him, but he has secret. He skips work and eats sweets.
Saboriman Kantarou was released on Netflix on July 7, 2017 and then broadcasted on July 13, 2017 through TV Tokyo.
Hello Harinezumi – DRAMA
Manga by Hirokane Kenshi, English translations: Hello New Hero, Hello, Detective Hedgehog
Akatsuka Detective Agency stands inconspicuously at Shimo Akatsuka in Tokyo's Itabashi ward. Its carefree, eccentric investigator Nanase Goro is eager to take on troublesome cases that everyone else is reluctant to. At times, he and his partner Kogure Kyusaku tackle sad cases and sometimes difficult ones that are beyond imagination. The detective agency is headed by Kaze Kaoru, a heavy drinker who downs alcohol during the day but watches out for Goro and Gu-re.
The drama started airing its first episode on July 14, 2017.
SEPTEMBER 2017
Ajin – Movie
Manga by Gamon Sakurai,  Other titles: Ajin: Demi-Human
In the original manga's story, an immortal first appeared on an African battlefield 17 years ago. Later, rare, unknown new immortal lifeforms began appearing among humans, and they became known as "Ajin" (demi-humans). Just before summer vacation, a Japanese high school student named Kei Nagai is instantly killed in a traffic accident on his way home from school. However, he is revived, and a price is placed on his head. Thus begins a boy's life on the run from all of humankind.
The film is scheduled to hit the theaters on September 30, 2017.
Okuda Tamio ni Naritai Boy to Deau Otoko Subete Kuruwaseru Garu – MOVIE
Manga by:  Chokkaku Shibuya; English translation: A Boy Who Wished to be Okuda Tamio And A Girl Who Drove All Men Crazy
Yuji Koroki (Satoshi Tsumabuki) is 35-years-old and admires singer-songwriter Tamio Okuda. He gets transferred to the editing division of a lifestyle magazine. There, he has a difficult time dealing with strange conversations with his coworkers. Yuji Koroki then meets Akari Amami (Kiko Mizuhara) at work. She works as fashion press. He falls in love with her at first sight, but soon hell begins for Yuji Koroki.
The film is expected to be released on September 16, 2017.
OCTOBER 2017
Ayame-kun no Nonbiri Nikushoku Nisshi – MOVIE
Manga by Mai Machi, English Translations: Ayame's Carefree Journal on Meat-Eating; Ayame-kun no Nonbiri Niku Nisshi; The Diary About Ayame's Easygoing and Aggressive Days
The story centers on Ayame and Tsubaki, who are researchers at a lab in the biology department of T University. Ayame is a "returnee," someone who lived abroad for a while and then returned to Japan. He does things at his own pace and is a "dinosaur otaku," and Tsubaki is his older colleague who is an enthusiast of studying the skeletons of birds and dinosaurs. The story follows their slightly strange romantic relationship.
The film opens in Japan on October 7.
The Disastrous Life of Saiki K – MOVIE
Manga by Shuichi Aso , also Known as: Saiki Kusuo no Sainan
Kusuo Saiki (Kento Yamazaki) is a 16-year-old high school student. He was born with psychic powers, but he hesitates using his super powers in front of other people due to a childhood experience. Kusuo Saiki now tries to keep a distance from others to hide his psychic power ability, but his classmates with distinct individuality gather under Kusuo.
The Disastrous Life of Saiki K is scheduled to be released on October 21, 2017
DECEMBER 2017
Honoo no Tenkousei REBORN – DRAMA
Manga by Kazuhiko Shimamoto,  English Translation: Blazing Transfer Student
The eight-episode drama is titled Honō no Tenkōsei REBORN, and will be available on 190 countries on Netflix this December. All seven members of the Johnny's West singing group will star in the series.
The original manga centered on Noboru Takizawa, a transfer studennt at a new high school where disputes are settled through fights. He picks a fight with the school bully Ibuki Saburo in the hopes of winning the right to date Yukari Takamura, the school idol. The new series will be a sequel set years after the original story, with Noboru now the principal at his own elite high school, Tanebi Academy, which he established for a certain purpose. By coincidence, seven students all named Kakeru transfer into the school to infiltrate and improve it from within in order to solve a problem that has national implications.
Hono no Tenkosei is scheduled for streaming via Netflix in December 2017.
DESTINY Kamakura Monogatari – MOVIE
Manga by Ryohei Saigan, English Translation: Destiny Kamakura Story
Masakazu Isshiki (Masato Sakai) is a mystery writer. He lives with his much younger wife Akiko (Mitsuki Takahata) in Kamakura, Japan. They solve mysterious cases taking place around them. Together with his wife Akiko, he interacts with the demons, spirits, gods, buddhas, and aliens of Kamakura. His acquaintances and friends range from affiliates of the Police to mysterious animals. Adults and children will enjoy this work of mystery as he solves difficult and strange cases with a variety of characters as his side.
Destiny Kamakura Monogatari is slated to be released on December 9th.
Sources:
Asian Wiki
My Drama List
Drama Wiki