Japan seems to be very serious in this game: the number of drama and movie versions of popular manga this year are apparently growing exponentially, given that we are only at the second half of 2017.
So I've done a *bit* of research and I felt like I've been counting them as if there's no end. I thought I could finally end at 20, but to my surprise, I've been  counting beyond of what I expected. 😦
So I hope this list would be of great help to other manga fans, as I, personally, find it so helpful especially if I needed to be reminded of what to expect in the coming days. (I do not trust my memory that well now, especially with memorizing titles in its native language.)
JANUARY 2017
Dansui! – TV Series & Stage play
Manga by Tatsuya Kiuchi. English Translation: Dive!
Dive! is about a school swimming team that is on the brink of getting disbanded. The team has only three members: Shūhei, the team captain who looks after the others; Daiki, who is quiet in character, taciturn, and has a *great body*; and Harumi, a handsome and effeminate man.
These second-year students are looking for more members to complete the team, and the only members that they recruited include a neophyte and someone who barely swim.

The cast includes Ryou Matsuda as Shuhei Sakaki and Shuuto Miyazaki as Daiki Shinoduka.
The television series premiered in January 2017.  The stage play with the same cast followed in May of 2017.
Shinjuku Swan II – Movie
Manga by Ken Wakui
The film adaptation of Shinjuku Swan is said to be a sequel to the first movie. It follows the story of  Tatsuhiko Shiratori, who works as a scout recruiting girls to work in the adult entertainment industry. He moves to Yokohama from Shinjuku, and immediately starts getting into trouble with the CEO of another scout company.
Shinjuku Swan II was released on 21 January 2017 in Japan.
Everyone's Getting Married – TV Drama
Manga by Izumi Miyazono. Japanese title: Totsuzen Desu ga, Ashita Kekkon Shimasu
Mariya Nishiuchi played as Asuka Takanashi, a twenty-something woman who is working for a well known bank and has relevant and various professional qualifications in finance. Although with the great professional background and successful career, she actually wants to get married and become a full-time housewife.
One day, her boyfriend of five years suddenly broke up with her. Desperate to find her next potential husband, she immediately starts searching to find the "love of her life."
Then she meets Ryu Nanami (played by Ryuta Yamamura), a very popular TV newscaster. Although he appears to be the most ideal man for Asuka, Ryu is 100% against the idea of marriage and determined to never get married. However, despite their different views on marriage, they eventually fall in love and start their relationship.
Everyone's Getting Married premiered on Fuji TV on January 23rd.
Itazura Na Kiss The Movie Part 2: Campus – Movie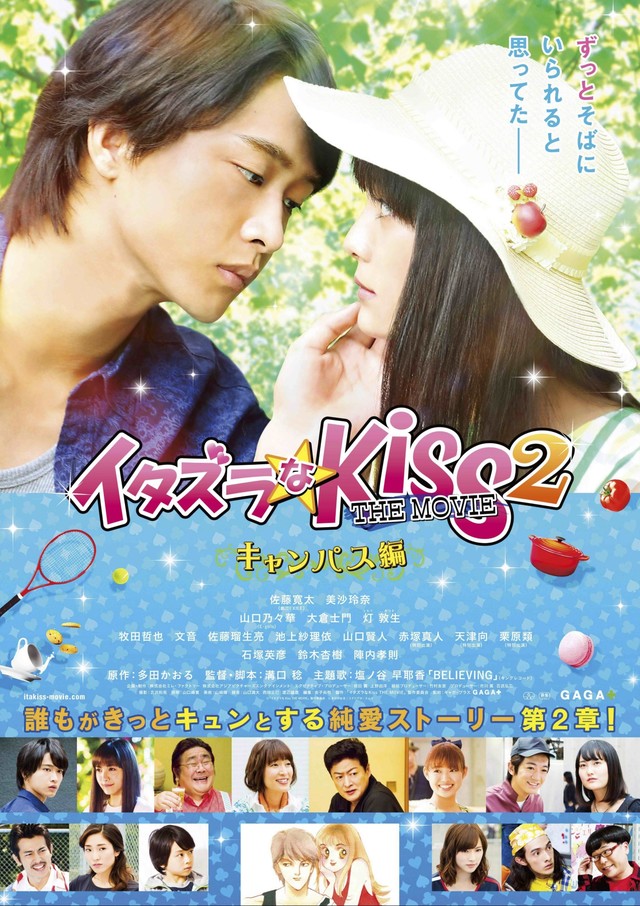 The story starts when Naoki (Kanta Sato) and Kotoko (Reina Visa) enter the same university. Naoki majors in science and technology, while Kotoko majors in literature. Suddenly, a beautiful student named Yuko Matsumoto appears in front of Naoki and Kotoko couldn't help but feel shaken by her new rival in love.
Itazura na Kiss The Movie Part 2: Campus premiered on January 27, 2017.
FEBRUARY 2017
Kizudarake no Akuma – Movie
manga by Volvox Sumikawa, English translation,  The Bruised Covered Demon


Mai Kasai was part of a group of girls who brutally bullied fellow classmate Shino during middle school. Although Mai never directly bullied Shino, she watched her friends do the torture that forced Shino to transfer schools. Due to her father's work transfer, Mai transfers from her high school in Tokyo to a school in the countryside.
Although Mai thinks she can have a fairly easy school life by manipulating the classroom hierarchy, her days are ruined when she finds out Shino is her new classmate. Now with a passion for revenge, Shino and Mai switch places, with the former becoming the mastermind, and the latter becoming the victim in bullying hell.
Kizudarake no Akuma is a Japanese film directed by Santa Yamagishi, starring Rika Adachi. It was released in Japan by Kadokawa Pictures on 4 February 2017.
One-Week Friends – Movie
Manga by Matcha Hazuki. English Translation: One Week Friends
The story is about Yūki, a boy who wants to befriend with his classmate and desk neighbor Kaori. However, Kaori gently declines his friendship, saying, "But, my… memories of my friends disappear in a week…" But still determined, Yūki and Kaori eventually become friends, and the two become friends over and over again as the weeks pass.
The cast includes Haruna Kawaguchi and Kento Yamazaki for the film's main roles. Kawaguchi plays Kaori Fujimiya (seen left in photo), while Yamazaki plays Yūki Hase.
The movie is premiered in Japan on February 18, 2017.
Kimi wa Petto – Drama Series
Manga by Yayoi Ogawa. English Translation: You're My Pet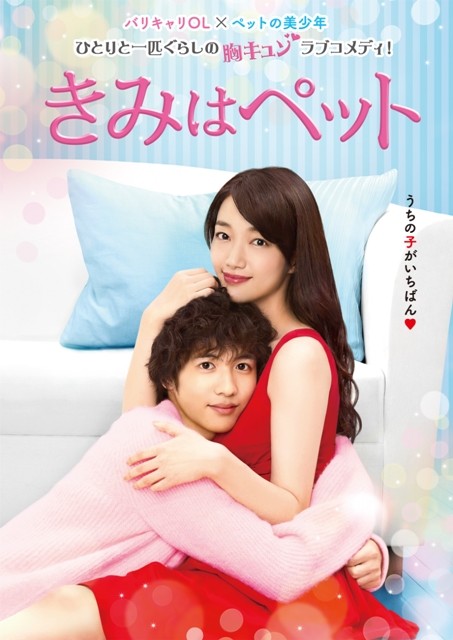 Sumire Iwaya, a tall and beautiful career woman who works as an editor for a well-known newspaper encounters a homeless boy on the street who resembles her childhood pet Momo, and facetiously offers to take him home as a pet. However, the boy surprises Sumire by agreeing to the proposition.
Noriko Iriyama (left) as Sumire and Jun Shison (right) as Momo starred the new and updated Japanese live action version of the manga.
The drama released 16 episodes and was aired on late-night television in February 2017.
Kyou no Kira-kun – Movie
Manga by Rin Mikimoto. English Translation: Today's Kira-kun
Today's Kira-kun is about an eccentric girl named Nino, who keeps a parrot on her shoulder and a carouser named Kira who passes his days with nonsense. Nino and Kira's houses are actually neighbors, but they never talk to each other, until one day Nino finds out Kira's secret and their fates intertwine.
The cast includes Marie Iitoyo as Nino (right) and Taishi Nakagawa (left) as Kira for the film's main roles.
The movie was released in Japan on February 25, 2017.
MARCH 2017
Hirunaka no Ryuusei – Movie
Manga by Mika Yamamori. English Translation: Daytime Shooting Star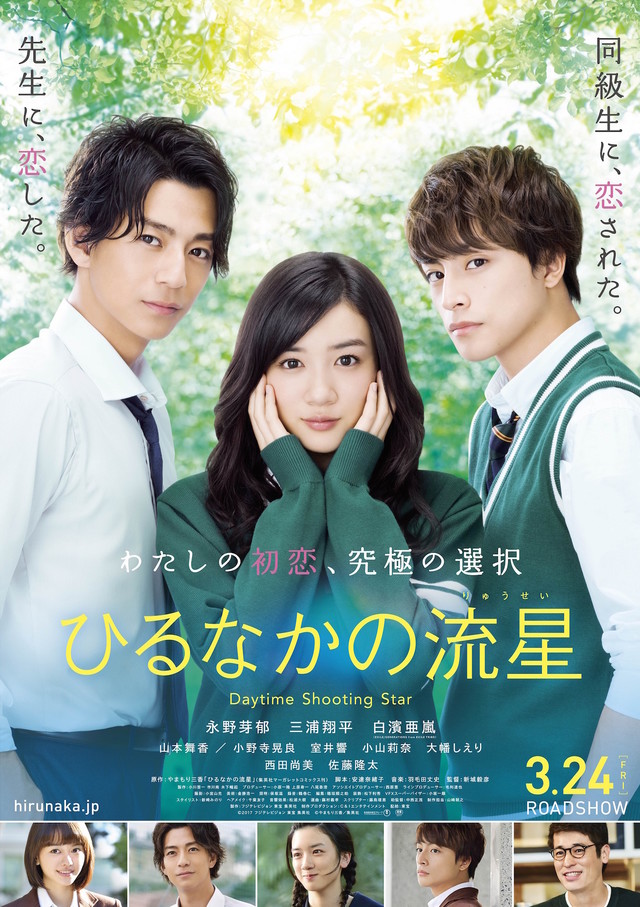 Suzume Yosano (Mei Nagano) is a first grade high school student. She lived in the countryside, but, due to her parents transferring overseas for work, Suzume now lives in Tokyo with her uncle (Ryuta Sato). Suzume has never had a boyfriend before, but she has feelings for her homeroom teacher Satsuki Shishio (Shohei Miura). Meanwhile, her classmate, Daiki Mamura (Aran Shirahama), becomes attracted to Suzume.
Takehiko Shinjo will direct the movie, with scripts by Naoko Adachi.
The movie is slated to premiere on March 24, 2017.
P to JK – Movie
Manga by Maki Miyoshi. English Translation: P & JK – Police and High School Girl

Kako Motoya (Tao Tsuchiya) is in the first year of high school. She has yet to have a boyfriend yet. One day, she pretends she's a university student and takes part in a group blind date. There, she meets 23-years-old Kota Sagano (Kazuya Kamenashi). Kako and Kota get along well and become attracted to each other. Later, Kota learns that Kako is a high school student and his attitude towards Kako changes. In fact, Kota is a police officer. Even though he likes her, he knows he can't date her. Then, Kako is injured while protecting Kota. Kota decides to accept Kako for who she is. He asks Kako to marry him, because that's the only way he can be with her as a police officer.
The movie stars Kazyua Kamenashi (left) as Kota and Tao Tsuchiya (right) as Kako. Ryuuichi Hiroki (live-action Strobe Edge, live-action Wolf Girl & Black Prince) will direct the film, and Nami Kikkawa will write the script.
The movie premiered on  March 25, 2017.
Inside Mari – TV Drama
Manga by Shuuzou Oshimi. Japanese title: Boku wa Mari no Naka.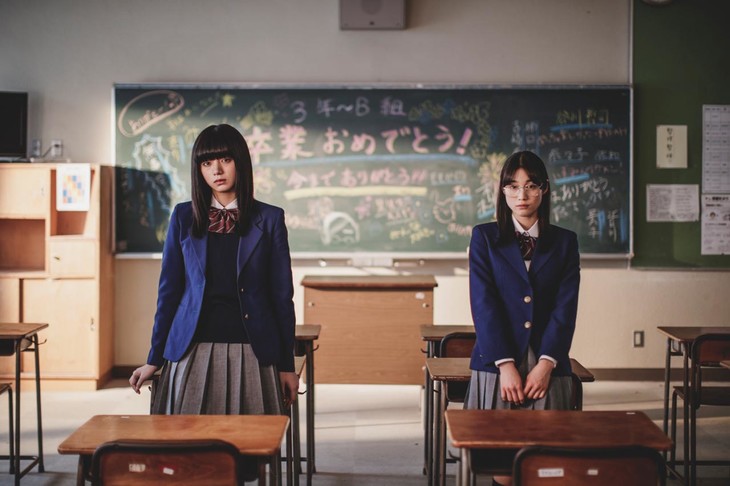 The original manga follows an "angel-like" beautiful high school girl with a certain secret she has been hiding from everyone, and an idle shut-in young man; the highlight of his day is seeing Mari at the convenience store. The story begins as Mari wakes up in her room, but something feels amiss about the room and even her own body.
The series will star Elaiza Ikeda (live-action Wolf Girl & Black Prince) as Mari Yoshizaki, Ryo Yoshizawa (Kamen Rider Fourze as Isao Komori, and Yuri Nakamura (Mori no Asagao) as Mari's classmate, Yori Kakiguchi.
The 8 episode series was released on Fuji TV On Demand on March 31, 2017.
Ghost in the Shell – Movie
Manga by Masamune Shirow
Ghost in the Shell is set in the near future, where the vast majority of humans are augmented with cybernetics, enhancing various traits like vision, strength, and intelligence. Hanka Robotics, the world's leading developer of augmentative technology, establishes a secret project to develop a mechanical body, or "shell", that can integrate a human brain rather than an AI. Mira Killian, a young woman who is the sole survivor of the cyberterrorist attack which killed her parents, is chosen as the test subject after her body is apparently damaged beyond repair. Over the objections of her designer, Dr. Ouelet, Hanka CEO Cutter decides to use Killian as a counter-terrorism operative.
Ghost in the Shell debuted on 31 March 2017.
Lovely Love Lie (The Liar and His Lover) – TV Drama
Manga by Kotomo Aki. Japanese title: Kanojo wa Uso wo Aishisugiteru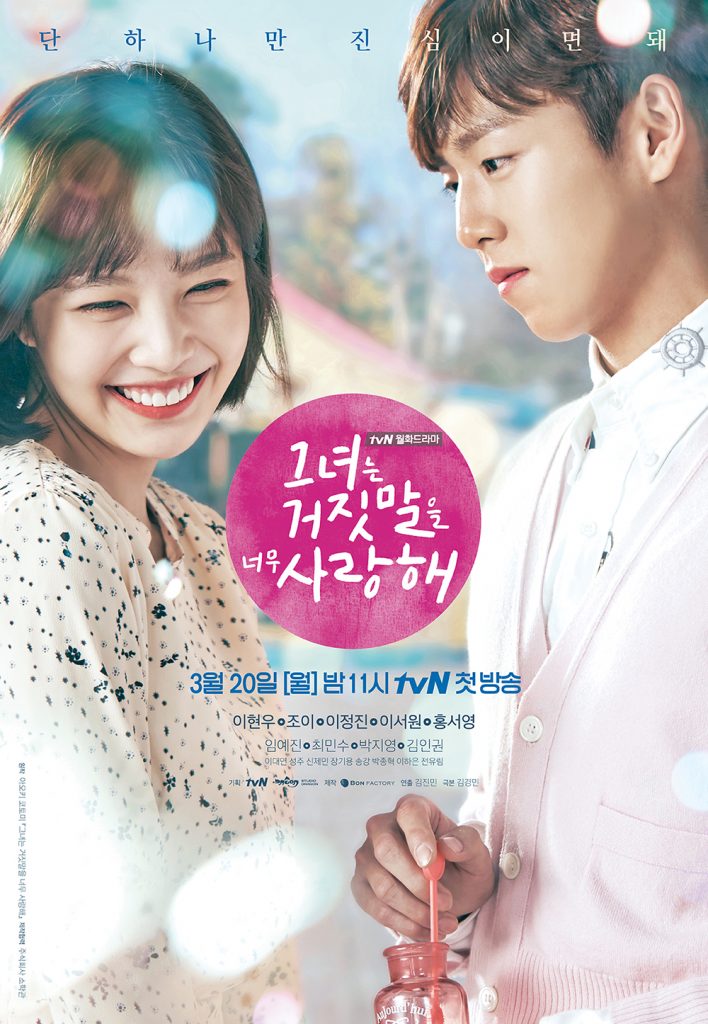 Kang Han Kyul (Lee Hyun Woo) is a famous, and very talented, composer. Having worked for a famous band long before they were stars, he has achieved a lot more in his youth than most do in their careers. However, he has fallen into a deep depression and no longer seems to have any motive to live.  That is until he hears a voice that strikes a chord in his heart.
Yoon So Rim (Joy) is a high school student. She has a voice unlike any Kang Han Kyul has ever heard. Yoon So Rim sees the pain in the sound composer's heart. Through her kindness and serenity, she convinces him to return to life. And through her voice, she makes her way into his heart. The problem, though, is that Kang Han Kyul intentionally hid his identity from Yoon So Rim.
The drama was released from March 20 – May 9th on Korean TV.
APRIL 2017
It's All About the Looks – TV Drama
Manga by Hiromi Okubo. Japanse title: Hito wa Mitame ga 100 Percent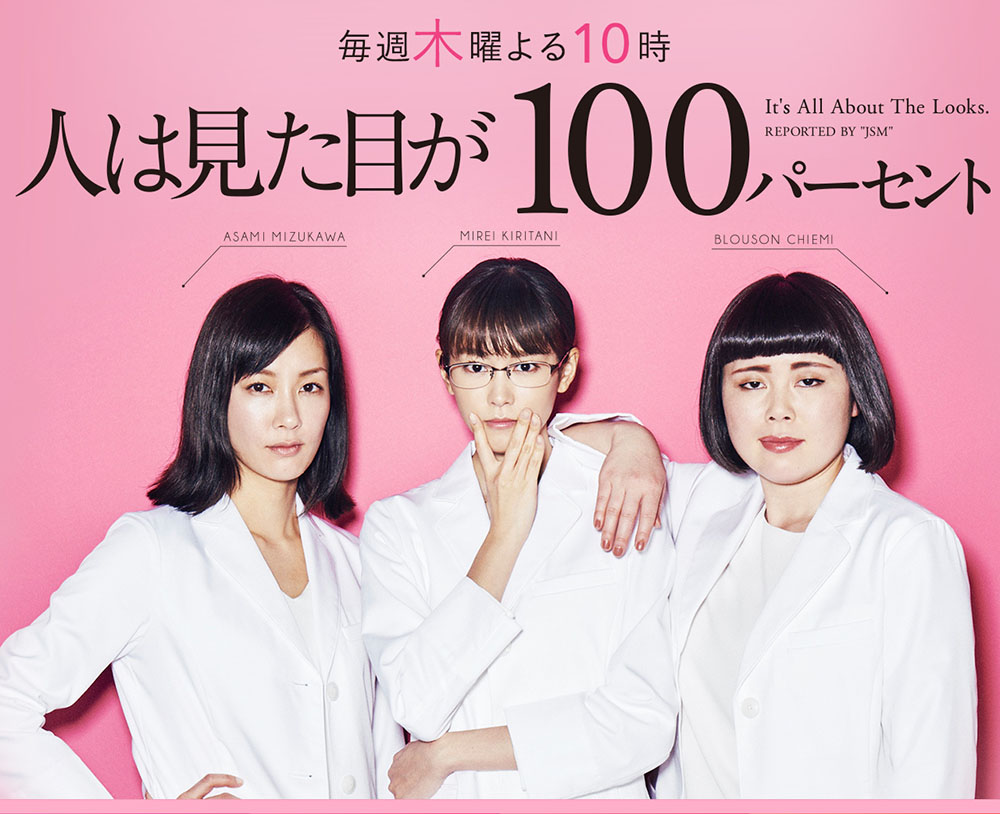 Totally immersed in research, Jun Jonouchi (Mirei Kiritani) has been turning her back on "beauty" and "femininity."
Realizing that she may be an "imitation girl" who gives up all that sort of thing, she starts to investigate the latest fashion trends and beauty tips with her colleagues, Mitsuko Maeda (Asami Mizukawa) and Seira Sato (Blouson Chiemi.)
Spring breeze makes people start something new and this romantic comedy perfectly fits such a season. Find out how "imitation girls" with only science backgrounds strive in self-exploration and boost their femininity!
The drama It's All About the Looks was broadcasted on FujiTV in April 2017.
BLADE OF THE IMMORTAL (Mugen no jūnin) – Movie
Manga by Hiroaki Samura
Blade of the Immortal  is a 2017 Japanese jidaigeki action film starring Takuya Kimura, Hana Sugisaki, Sōta Fukushi, Hayato Ichihara,Erika Toda,Kazuki Kitamura, Chiaki Kuriyama, Shinnosuke Mitsushima, Ichikawa Ebizō XI, Min Tanaka and Tsutomu Yamazaki .
The story is about Manji is a samurai who apparently cannot be killed by any injury. He crosses paths with Rin Asano, whose parents were killed by a group of master swordsmen, and promises to avenge their deaths.
The film premiered out of competition at the 2017 Cannes Film Festival, and was released theatrically in Japan by Warner Bros. Pictures on 29 April 2017.
MAY 2017
Peach Girl – Movie
Manga by Miae Ueda. English Translation: Peach Girl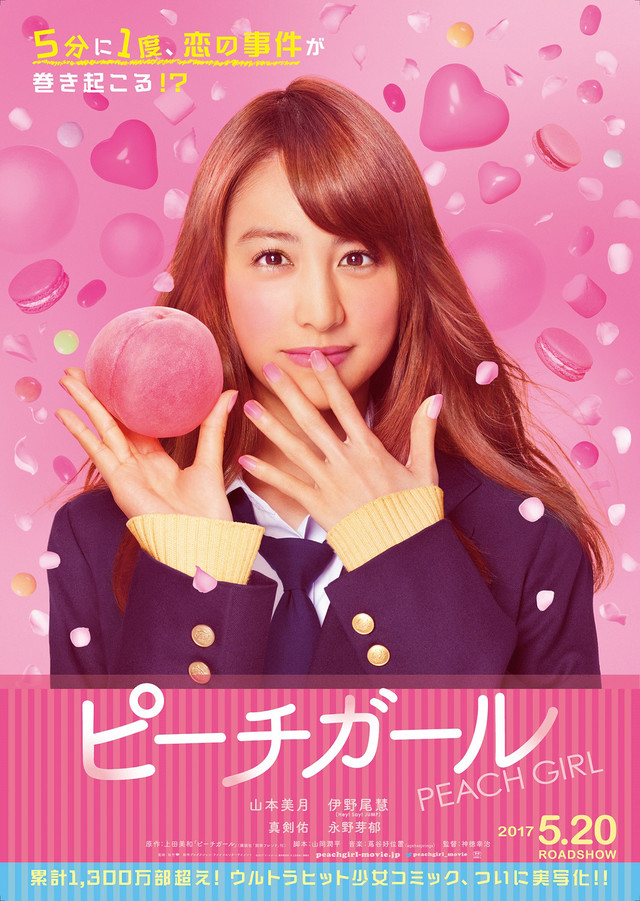 The story is about an average high school girl who everyone thinks is a beach bunny/slut because of her tanned skin. The actual reason she is so tanned is because she was on the swim team and tans very easily. She likes a boy who she heard only likes non-tanned girls.
Mizuki Yamamoto starred as Momo and idol group Hey!Say!JUMP's Kei Inoo played the role of Kairi in his first film role. Koji Shintoku directed the film.
The movie premiered in Japan on May 20, 2017.
JUNE 2017
Double Mints – Movie
Manga by Asumiko Nakamura. Genre:Boys Love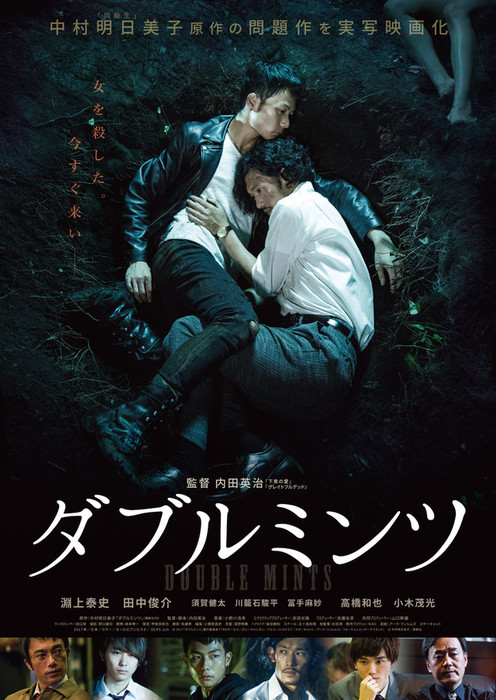 The manga's story begins when Mitsuo Ichikawa hears the domineering voice of someone on the phone saying, "I killed a woman." The man was his classmate in high school who had the same name as he does. The voice brings back old, forgotten memories of the man, which revive old passions. Both Mitsuos reunite as accomplices, and their relationship, which had always been one between master and servant, begins to change into something new.
The film is directed by Eiji Ueda. It premiered on June 3, 2017, in Japan.
Ani ni Aisaresugite Komattemas – Movie
Manga by Rina Yagami. English Translation: Brother's Troublesome Love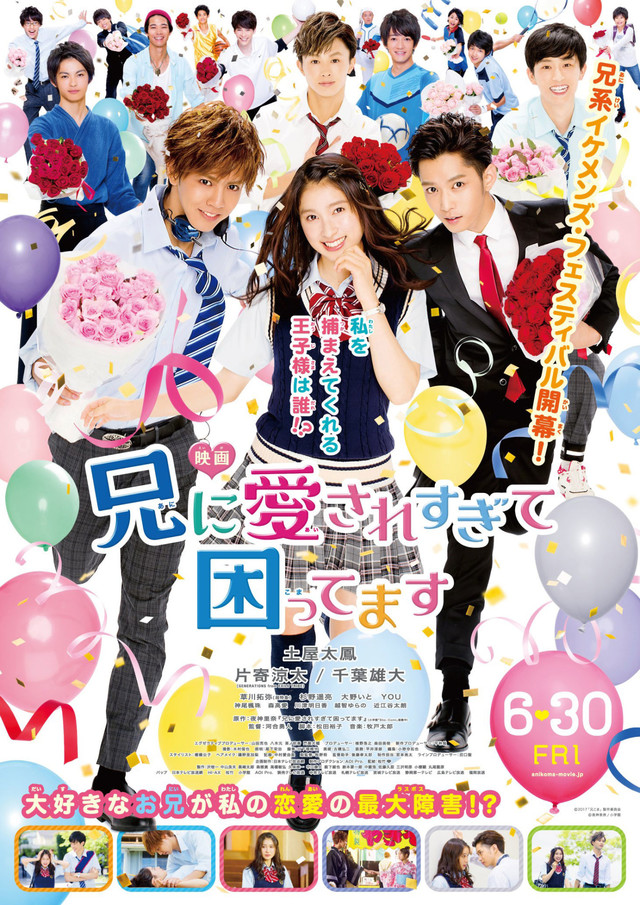 Setoka Tachibana (Tao Tsuchiya) is a female high school student. She has confessed her feelings to other boys 12 times, but has been rebuffed each time. Her older brother Haruka Tachibana (Ryota Katayose) cares for his younger sister deeply, but he holds a secret from Setoka. The secret is that they are not blood related. One day, Setoka's first love Takane Serikawa (Yudai Chiba) appears after many years and approaches her.
The movie premiered in Japan on June 30th, 2017.
JULY 2017
Kanna-san – TV Drama
Manga by Kahoru Fukaya. Genre: Josei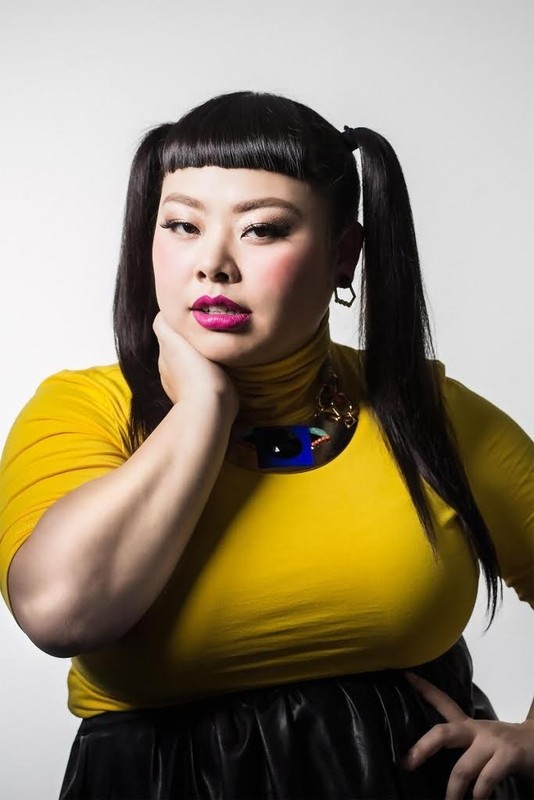 Kanna Suzuki (Naomi Watanabe) has a bright and positive personality. She works as a fashion designer at a company. She is married to Rei and they have a son Reon. Her family life is filled with happiness. One day, Kanna learns that Rei is having an affair. She kicks him out of their house. Kanna has a hard time dealing with her job and raising Reon by herself, but she tries her best for Reon and to achieve her own dream.
Kanna-san premiers on TBS in July 2017.
Bride of the Water God 2017 – TV Drama
Manhwa by Yoon Mi-Kyung.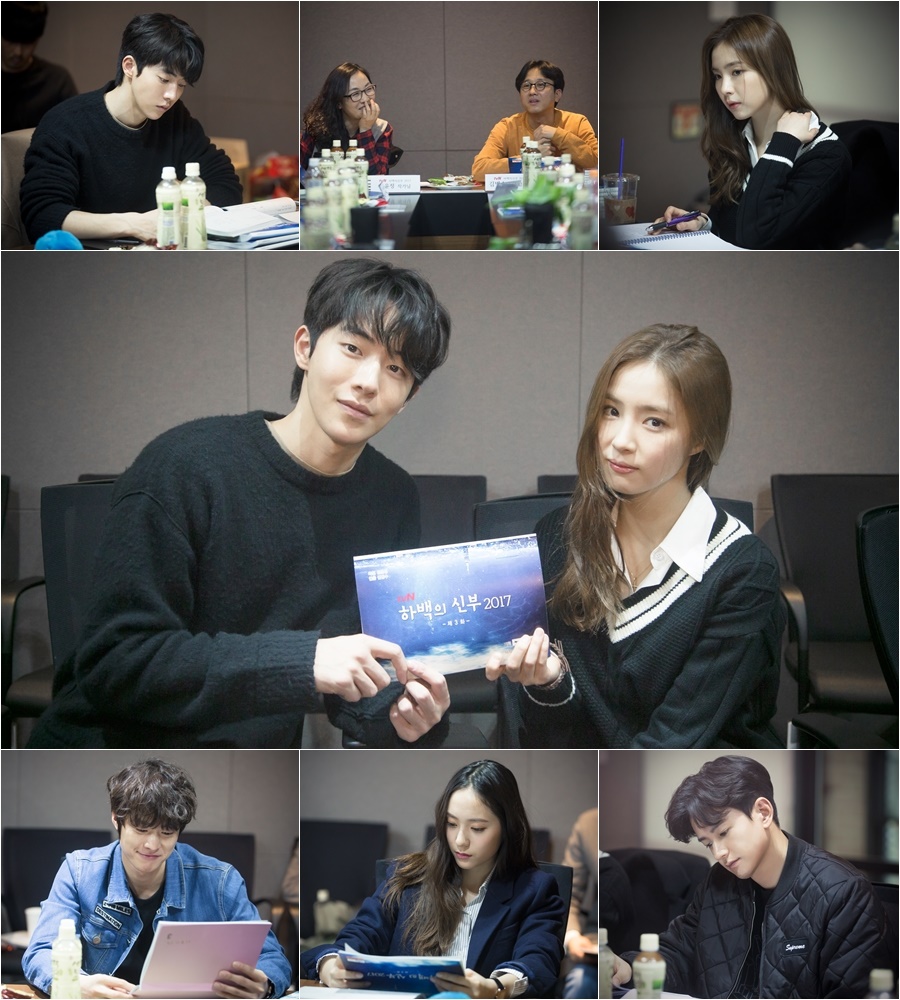 A romance takes place between Water God Ha Baek (Nam Joo-Hyuk) and Psychiatrist So-A (Shin Se-Kyung).
Bride of the Water God premiers on tvN in July 2017.
GINTAMA – Movie
Manga by Hideaki Sorachi
Genre: Action, Comedy, Parody, Samurai, Sci-Fi, Shounen
Set in a parallel universe around the Edo period, alien species Amanto attack planet Earth. The people on Earth fight back against the aliens for more than 10 years. The Shogunate sees the power of Amanto and decide accept their conquest. The Shogunate builds a puppet government for Amanto and carry out the Sword Abolishment Edict. Due to these actions, samurai, that fought against the Amanto for their country and their lord, fall into a decline. Gintoki Sakata (Oguri Shun) is a samurai and happens to meet people. He has an extraordinary experience.
Gintama will be released to Japanese theaters nationwide on July 14th, 2017.
Additional info, see previous post.
Ichirei Shite, Kiss – Movie
Manga by Yakko Kagga. English Translation: Make a Bow and Kiss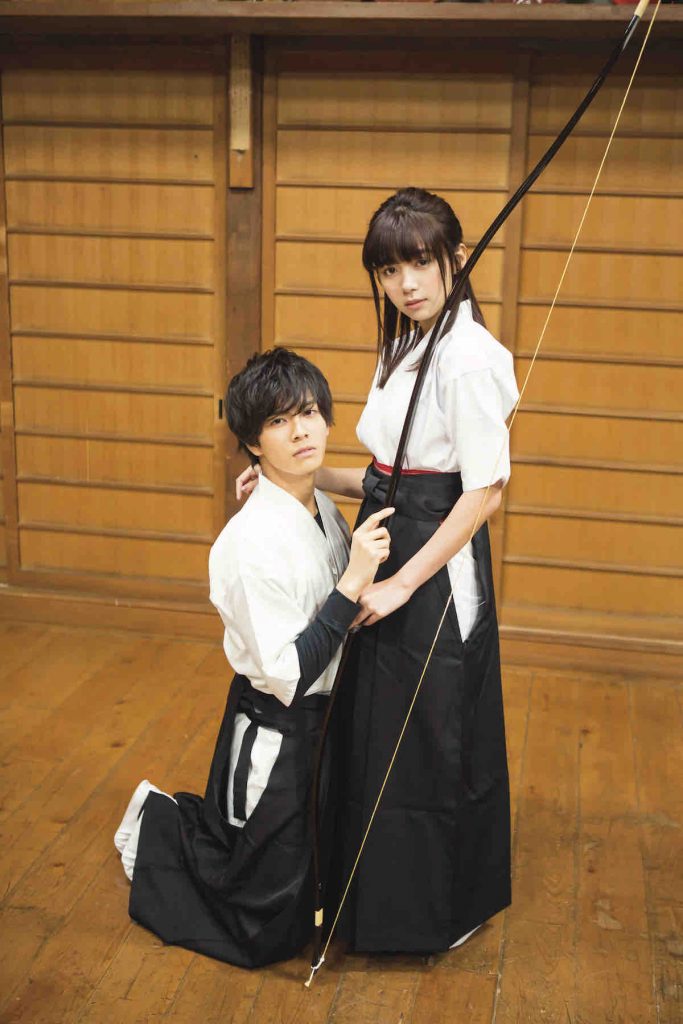 The manga's story centers on An Kishimoto, a girl who has been practicing archery for six years, since she was in middle school. Yet even as president of her high school archery club in her last high school tournament, she feels unsatisfied by her results and leaves behind regrets. The next person slated to be president is her underclassman Yōta Mikami, a person who never practices, yet grabs first place in tournaments. He's a boy for whom An holds some complicated feelings. When An is about to withdraw from her position and hand the position of president to Yōta, he stops her with a certain thought.
The movie will star Elaiza Ikeda as the female lead and Masaki Nakao as the male lead.
The film is slated to premier in fall 2017.
Tokyo Ghoul – Movie
Manga by by Sui Ishida
Ken Kaneki (Masataka Kubota) is a university student. He becomes injured by Rize, a human eating ghoul. Ken is saved from the ghoul when a steel frame falls on Rize. They are both sent to the hospital. Ken receives an organ transplant from Rize and becomes a half ghoul.
Tokyo Ghoul will be released on  July 29, 2017.
AUGUST 2017
JoJo's Bizarre Adventure: Diamond Is Unbreakable – Movie
JoJo's Bizarre Adventure: Diamond Is Unbreakable is the fourth part of Araki's JoJo's Bizarre Adventure manga. The story is set in Morioh, located in S City in M Prefecture of Japan, and it follows the misadventures of Jōsuke Higashikata and his companions, as they are involved in a series of bizarre incidents in their town.
JoJo's Bizarre Adventure: Diamond Is Unbreakable Chapter I (Japanese: ジョジョの奇妙な冒険 ダイヤモンドは砕けない 第一章 Hepburn: JoJo no Kimyō na Bōken Daiyamondo wa Kudakenai Dai-Ichi-Shō) is an upcoming Japanese film directed by Takashi Miike and based on the Diamond Is Unbreakable story arc of the manga series JoJo's Bizarre Adventure written and illustrated by Hirohiko Araki. The film stars Kento Yamazaki, Ryunosuke Kamiki, Nana Komatsu, Masaki Okada, Mackenyu, Takayuki Yamada and Yusuke Iseya. It is scheduled for release in Japan by Toho and Warner Bros. on 4 August 2017.
DEATH NOTE – Movie
Manga by by Tsugumi Ohba
In Seattle, a young man comes to possess a supernatural notebook, the Death Note, that grants him the power to kill any person simply by writing down their name on the pages. He then decides to use the notebook to kill criminals and change the world, but an enigmatic detective attempts to track him down and end his reign of terror.
Nat Wolff will play as Light Turner / Kira, a high-school student who discovers the titular "Death Note" and uses it to kill criminals by writing their names and causes of death, and thus becoming a world-famous serial killer. Margaret Qualley is also cast as Mia Sutton, Light's classmate and love interest, who becomes an ally in his mission to rid the world of criminals.
Death Note also stars Keith Stanfield as L, a highly intelligent and skilled detective who is determined to capture Kira (Light) and end his reign of terror; Paul Nakauchi as Watari, L's assistant; Shea Whigham as James Turner, Light's father and a police officer who aids L in bringing down the mysterious Kira, unaware that he is Light. ; and Willem Dafoe as Ryuk (voice), a demon who begins communicating with Light when he receives the "Death Note", and warns him about the repercussions of the book.
Death Note is distributed by Netflix, Warner Bros. Pictures Japan (Japan) and slated to be released on August 25, 2017.
SEPTEMBER 2017
Asahinagu – Movie
Manga by Ai Kozaki
Tojima Asahi is a first-grade high school student. She is small and weak physically. Asahi decides to change herself. She enrolls in the naginata (Japanese blade) club at her school. She works hard with the other club members and targets the national competition.
Asahinagu will be released on September 22, 2017.
OCTOBER 2017
Sensei! – Movie
Manga by Kazune Kawahara. English Translation: Teacher!
The story centers on second-year high school student Hibiki Shimada, who is in love with her teacher Kōsaku Itō, a cold man who seems to hate girls, but is actually kind. The story begins when she accidentally puts a love letter entrusted to her by a friend in Kōsaku's shoe locker.
Toma Ikuta will play Kōsaku Itō, a high school teacher, while Suzu Hirose will play Hibiki Shimada, a girl who falls in love with Kōsaku.
The movie is slated to premier in Japan October 28th.
NOVEMBER 2017
Fukumenkei Noise – Movie
Manga by Ryoko Fukuyama. English Translation: Anonymous Noise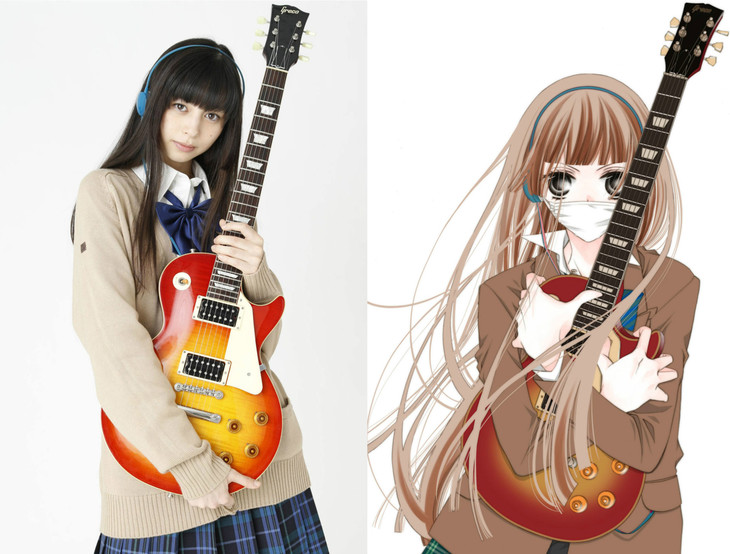 A girl who loves to sing, Nino Arisugawa experiences her first heart wrenching goodbye when her beloved childhood friend, Momo, moves away. And after Nino befriends Yuzu, a music composer, she experiences another sad parting! With music as their common ground and only outlet, how will unrequited love play out? Since both boys promised Nino that they will find her one day through her singing, she holds on to that hope and continues to reach out with her voice. Now in high school, Nino serendipitously reunites with Yuzu, but she yearns to see Momo again…
Ayami Nakajo will play Nino Arisugawa, while the male leads will be played by Jun Shison – Kanade Yuzuriha (Yuzu) – and Yuta Koseki – Momo Sakaki. The rest of the band members will be played by Erina Mano as Mio Suguri, Hayato Isomura as Ayumi Kurose (Kuro), and Yosuke Sugino as Yoshito Haruno (Haruyoshi).
Anonymous Noise is expected to premier November 25, 2017.
DECEMBER

Full Metal Alchemist
Manga by Hiromu Arakawa
In an alchemical ritual gone wrong, Edward Elric lost his arm and his leg, and his brother Alphonse became nothing but a soul in a suit of armor. Equipped with mechanical "auto-mail" limbs, Edward becomes a state alchemist, seeking the one thing that can restore his and his brother's bodies…the legendary Philosopher's Stone.
The cast includes Ryosuke Yamada as Edward Elric, Tsubasa Honda as Winry Rockbell, Dean Fujioka as Roy Mustang, Misako Renbutsu as Riza Hawkeye, Kanata Hongō as Envy, Jun Kunimura as Tim Marcoh, Kenjirō Ishimaru as Van Hohenheim, Natsuki Harada as Gracia Hughes, Shinji Uchiyama (ja) as Gluttony, Natsuna Watanabe as Maria Ross, Yo Oizumi (special appearance) as Shou Tucker, Ryuta Sato as Maes Hughes, Fumiyo Kohinata as General Haruko, and Yasuko Matsuyuki as Lust.
Full Metal Alchemist is expected to be released in December 2017.
Love and Lies – Movie
Manga by Musawo
The Japanese government carries out a program to increase the birth rate in the country. Their program analyzes gene information from its residents and selects a marriage partner for them.
Aoi Nisaka (Aoi Morikawa) is a high school student. She is in a love triangle with childhood friend Yuto Shiba (Takumi Kitamura) and Sosuke Takachiho (Kanta Sato). Sosuke Takachiho is appointed by the government to become her husband.
Love and Lies is slated to be released on December 31st.
Part 2 of this list will be posted soon. 🙂
Sources*:
http://mydramalist.com
http://blog.asianwiki.com
https://www.heartofmanga.com
http://www.animenewsnetwork.com
https://www.animeclick.it
http://thehypedgeek.com
http://www.siliconera.com
http://comicbook.com
http://www.imdb.com
https://en.wikipedia.org
*Films' summaries are edited due to timeliness and overall tone of the content.